Xiaomi Yi Action Camera 2K
Availability:
In stock
---
Xiaomi Yi WiFi action camera sports DV Official EU. Edition has passed CE, RoHS and CRUUS certification. With metal battery cover inside, features perfect heat dissipation performance. It can capture clear picture and shoot full HD 1080P videos. Durable design makes it more suitable for outdoor extreme risk. It supports 64GB micro SD card as the saving equipment. With easy to use and high performance, it is really a wonderful action camcorder for you.
Two times wider horizon, beautiful landscape will appear in front of your eyes
wide-angle lens (viewing angle of 155 degrees), clear and vivid picture.
Now, there is no need to spend time focusing. Make precise, clear images at any time instantly. We chose aspheric optics HD, optical glass lenses custom-made by American team of experts, the viewing angle of 155 degrees.
Thus, large images from a specific angle will be very expressive and will not leave you indifferent. We also connected Sony image sensor with lens for each picture to impress us with its naturalness.
Selfie while traveling, photographing yourselves from any angle
Do you want to make a good shot on the background of a landscape while traveling? You do not want template pictures? Specially for travelers there is a wonderful device for photographing - monopod for selfie, increase the distance from camera to yourself on 71cm. Doesnt matter if you want to take a picture of yourself or your entire company on the background of a beautiful landscape, now it can be done very easily. With WIFI or remote control via Bluetooth, you can take pictures with a variety of animals on the background of cliffs or tall buildings.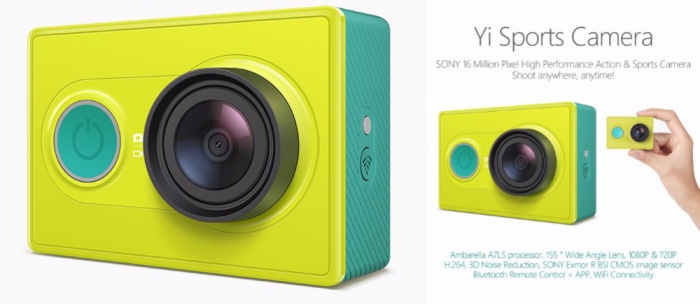 Remote control with your phone App

Remote control via Bluetooth

Support for shooting using a monopod

Break the rules, take pictures of bright moments
Create photos with special angles
Yi Camera will accompany you on sea travels, while climbing a high mountain and record coasting from snowy mountains. By tracking the speed, the camera will instantly record every moment of your cat jump. During the trip, delayed fotoshoot will help you to fixate any quick movement. Each photo will be endowed with a special effect.
1080р 1600 megapixels Waterproof Camera
60 fps 7pcs/ sec to 40 meters
The trajectory of motion picture Special water diving
if special case used
Formats shooting:
H.264 standard, MP4 format
Video formats (resolution):
• 1080P60fps
• 1080P48fps
• 1080P30fps
• 1080P24fps
• 960P60fps
• 960P48fps
• 720P120fps
• 720P60fps
• 720P48fps
• 480P240fps
Note: WQVGA standard can preview and save Full HD video at the same time
Recording system:
Stereo recording with a sampling frequency of 96 kHz and 92dBA signal / noise ratio
Shooting properties:
16000000 pixels
4608x3456
Maximum resolution
0.5S / 1S / 2S
5S / 10S / 30S
60S
Time Movie
3-15s
Time Lapse (time-lapse filming)
7k / sec.
Filming on the move
No review available. Be the first to
write
a review.
| | |
| --- | --- |
| Manufacturer | Xiaomi |
| Type | Sports Action Camera |
| Material | Plastic |
| Waterproof | Up to 40 m deep with waterproof housing (not included) |
| Camera Lens | F2.8 aperture, 155° ultra-wide-angle glass lens |
| Image Processor | Ambarella A7LS high-performance processor |
| Image Sensor | 16MP Sony EXMOR R CMOS BSI image sensor |
| Video Encoding | High-definition H.264 image encoding, MP4 format |
| Supported Resolution | 1080p @60fps, 48fps, 30fps, 24fps 960p @60fps, 48fps 720p @120fps, 60fps, 48fps 480p @240fps |
| Image Format | JPEG |
| Image Resolution | 16MP, 4608x3456 pixels Max |
| Audio System | Built-in microphone/speaker (AAC) Dual-channel, 96KHz sampling, 92dBA SNR |
| White Balance Mode | Auto |
| WiFi | Broadcom wireless module, 802.11b/g/n, 100m signal |
| WiFi Functions | Easily transfers video and photos to your smartphone |
| Wireless Encryption | WEP / WPA / WPA2 |
| Gravity Sensor | ST high performance g-sensor |
| WDR | e-HDR |
| Storage | Max External Card Supported: Micro SD 64GB (not included) Class Rating Requirements: Class 10 or Above |
| Display | No |
| Battery | Rechargeable Panasonic high-density 1010mAh lithium-ion battery |
| Total Power Consumption | ≤ 5.0W |
| Power Supply | USB charger |
| Power Interface | DC 5V / 2.0A micro USB interface |
| Supported Platforms | Android, iOS |
| Dimensions | 60.4mm × 42mm × 21.2mm |
| Weight | 76.6g |
| Color | Green, White |